September 16, 2020 at 9:02 am
Energy Transfer (ET) is one of the more controversial stocks on Seeking Alpha
Summary
ET will soon be a huge cash flow machine.
ET's huge cash flow will soon bring its huge debt down to more reasonable levels.
Bond buyers don't seem concerned about ET's credit metrics.
To see where ET's price can go look where its been.
DAPL legal case – "you can't unring the bell".
Looking for more investing ideas like this one? Get them exclusively at Turnaround Stock Advisory. Get started today »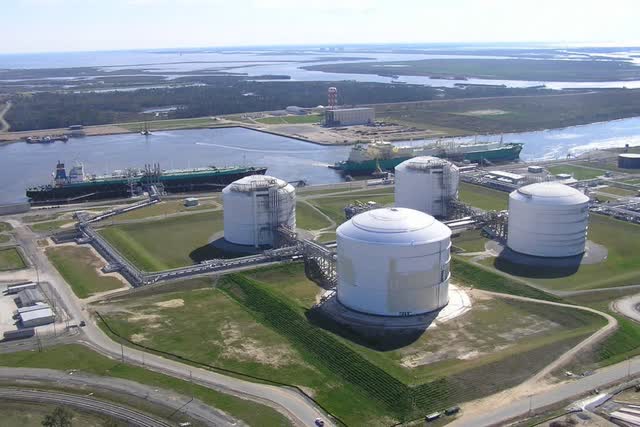 A pessimist sees the difficulty in every opportunity; an optimist sees opportunity in every difficulty" Winston Churchill
Energy Transfer (ET) is one of the more controversial stocks on Seeking Alpha. There is no shortage of opinions, both pro and con.
I am one of the "pros" have written an article in April "Energy Transfer LP: Best Of Breed Oil And Gas Pipeline Company"
I managed to make a nice profit by buying ET in April for $5.57 and selling at $7.50 in June. Since then the stock has pretty much wandered between $6 and $7 mainly because of the uncertainty over legal issues with DAPL (Dakota Access Pipeline).
In this article, I will make the case for ET over the next 5 years regardless of the outcome of the DAPL imbroglio.
Here are 5 reasons for a long-term ET investment.
1. ET will soon be a huge cash flow machine.
I know, I know FCF (Free Cash Flow) is currently non-existent after paying out distributions but massive amounts are coming down the road starting in less than 6 months. And whatever you think of the validity of EBITDA $10.5 billion is a lot of EBITA for the COVID-19 year.
And it is just going to get better from here on.
EBITDA will increase each year as new projects come online late this year and next. Each of the following completions will add to EBITDA next year and beyond even though ET doesn't give an actual number but does use the word "huge" twice.
CEO Kelcey Warren August 5, 2020:
However, I want to remind everyone and it's been brought up in these discussions, but the backlog of growth that's going to be coming on in the fourth quarter and into the early part of 2021 is huge. And the dollars that are going to follow that are likewise huge.

Part of that "huge" growth just happened with the early completion of the Lone Star Express Pipeline. The original estimated completion was sometime in the 4th quarter of 2020.
Energy Transfer (ET -1.9%) says it completed the Lone Star Express Pipeline expansion project, adding more than 400K bbl/day of natural gas liquids capacity to its existing Lone Star NGL pipeline system in Texas.Source: Seeking Alpha
NGL is already ET's largest EBITDA provider and Lone Star Express will just increase it more.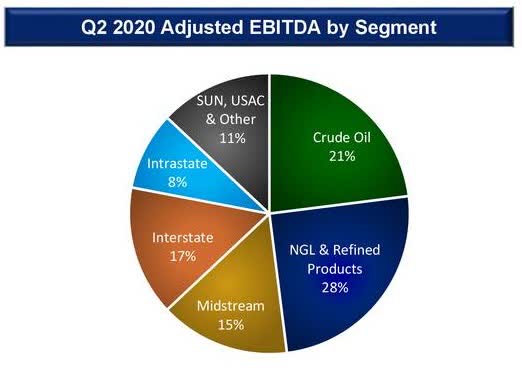 2. ET's huge cash flow will soon bring its huge debt down to more reasonable levels.
As it stands now, total long-term debt is about $50 billion and that is high enough to make rating agencies take notice. And ET has confirmed that maintaining its investment-grade rating is a high priority.
Tom Long CFO:
We remain committed to our investment-grade rating and improving our leverage metrics as we navigate through the current market disruption.

Clearly the investment-grade rating is very important.
With the current Debt/EBITDA ratio about 5, ET will easily be able to lower that rate to under 4.5 just by using the growth CAPEX savings available to it over the next 3 years. That doesn't include any of the "huge" growth dollars mentioned by Kelcey Warren above.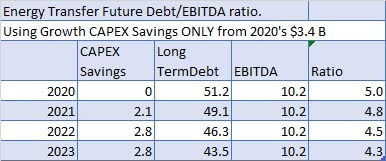 By 2023 ET could easily have a Debt/EBITDA at a very comfortable 4.3 without any increase in EBITDA. And EBITDA almost assuredly will increase from the growth projects to come online over the next year.
3. Bond buyers don't seem concerned about ET's credit metrics.
Bond buyers tend to be some of the more conservative investors in the market. That's why I often check bond prices to see what credit savvy buyers think about a company's prospects.
If you check out ET's bond prices, you'll find that all the nearby issues are selling at a premium. That makes me think ET's credit metrics are very solid at this point in time.
Here's one of ET's more recent bonds issued in 2019. It's an unsecured bond for $1.75 billion due in 2049 selling for $104.29 as of August 28th.

4. To see where ET's price can go let's look where its been.
Since we are considering a 5-year plan let's look backward 5 years to come up with a reasonable expectation for ET's share price 5 years from now.
I use Operating Income as the measure of ET's ability to generate cash, distributions, and FCF going forward. There is little doubt that Operating Income is going to increase significantly with the number of new projects going live over the next 6-9 months if Kelcey Warren's "huge" comments are true.
Here's what prices have looked like over the last 5 years.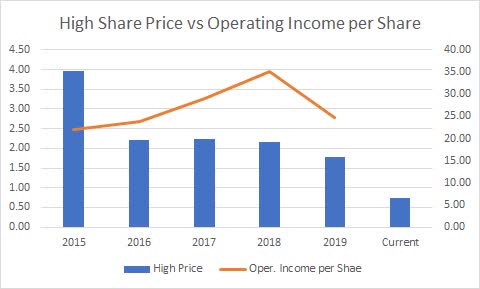 I don't know about you but to me, that looks like a potential 4-bagger or better over the next 5 years. Please note the word "potential".
5. DAPL legal case – "you can't unring the bell".
DAPL's (Dakota Access Pipe Line) legal challenges are the main reason ET cannot move beyond $6 or $7 a share. Of course, it is impossible to predict the outcome of a dispute between two government agencies, ACE (Army Corps of Engineers) and a federal judge.
But using common sense and logic it would seem to me to be headed to the Supreme Court for resolution if the appellate court rejects ET's argument that closing down the pipeline causes more harm than keeping it open. How long that would take is anyone's guess and in the meantime, ET will be in stock market purgatory which is why I suggest 5 years is an appropriate horizon.
Here are 3 cases where NEPA (National Environmental Protection Act) was used for arguing an infrastructure project shut-down was an appropriate resolution.
Kinder Morgan's Permian Highway pipeline case:
Sierra Club alleges the Corps authorized the Pipeline to be constructed at those water crossings in violation of the National Environmental Policy Act ("NEPA"). (Id.).Source: Court documents.
That sounds familiar, doesn't it?
But Judge Robert Pitman rejected the NEPA argument saying that:
The Court makes its determination pursuant to a legal framework that discounts much of Sierra Club's harm allegations to the point that it becomes an almost insurmountable hurdle to obtain injunctive relief, even when Kinder Morgan has admittedly drilled into a void in the karst, leaked drilling fluid and impacted the drinking water wells of nearby Case 1:20-cv-00460-RP Document 44 Filed 08/28/20 Page 24 of 25 25 residents, and intends to continue to use horizontal directional drilling at water crossings. Unfortunately, granting an injunction at this stage of the Pipeline's completion would not "unring the bell,"

Source: Court Documents
So no irreparable harm, no foul. And that was a pipeline not completed yet compared to one that has shown no harm whatsoever after running since 2017.
Dominion Energy's transmission line over the James River:
Dominion Energy built 17 transmission towers over the James River in Virginia much to the consternation of environmental group National Parks Conservation Association who sued to have the towers removed even though they were transmitting electricity to customers.
The U.S. District Court for the District of Columbia on Wednesday rejected reconsideration requests and left intact the Army Corps of Engineers' authorization for the Dominion Energy Inc. project across the James River near Historic Jamestowne, Va.

An appeals court ruled last year that the agency failed to comply with the National Environmental Policy Act when it approved the project's route through historic areas. Source: Bloomberg Law
This is another case where NEPA claims were overturned.
Energy Transfer's DAPL case:
A federal agency, the Army Corps of Engineers, has said not once but twice, that an EIS (Environmental Impact Statement) review of DAPL is not needed.
But under extreme pressure, ACE has recently agreed to do an EIS. What are the odds that ACE, after saying an EIS was not needed, will find a reason to stop the pipeline? I would say those odds approach zero.
The judge's original order also used NEPA as a justification for ruling against ET (see here):
Boasberg's ruling found that the Army Corps violated the National Environmental Policy Act (OTC:NEPA) when it granted an easement for the 570,000 b/d DAPL to cross beneath Lake Oahe.
But as we have seen in the KMI and Dominion cases NEPA does not necessarily mean injunctive relief.
Since the DAPL project has been running since 2017 without any legal or environmental issues it seems unlikely to me that the burden will fall on ET unless or until an EIS shows significant harm will result in the future. After all, there has been no harm thus far in 3 years of pumping 570k bbls a day through the DAPL pipeline.
The Fast Act may also be available.
In 2015, the Obama administration unveiled the FAST Act (Fixing America's Surface Transportation) part of which is designed to speed up the completion of infrastructure projects (including pipelines) by minimizing endless lawsuits by environmental and other groups.
Here's what Columbia Law School said about FAST:
Pursuant to FAST, when considering a request for a preliminary injunction, "the court shall (1) consider the potential effect on public health, safety, and the environment, and the potential for significant negative effects on jobs resulting from an order or injunction; and (2) not presume that the harms described in paragraph (1) are reparable."

This change is potentially significant because, even if a NEPA or permitting violation has occurred, physical construction of the project may preclude meaningful relief.
Conclusion:
Energy Transfer is certainly one of the most controversial stocks on Seeking Alpha.
But controversy can be an opportunity especially when a beaten-down stock like ET is involved. I don't think many would disagree that if the courts rule in favor of ET the price will go up a significant amount. The question you have to ask yourself is what are the odds each way. I am not even sure lawyers would make a bet at this point.
The safe way to invest in ET is to use the substantial 18% dividend to buy puts in order to protect your investment to the downside. For example, the January 2021 $5 PUT closed recently at .31 almost exactly the same as the quarterly .305 dividend. In this manner, you can stick around for the substantial potential upside while protecting you from most if not all of the downside no matter how long the court case takes.
Risks, alarm bells, and red flags
One problem with any petroleum-related business is government regulation. It can change in a moment and on a political whim. You need to look no further than the recent legal decision against the Dakota Pipeline (see here).
Not to mention a rather important election coming up that almost certainly will affect oil-related stocks significantly.
In a volatile environment like we are facing now, cash is always a viable alternative.
In addition, there could be a recession coming or even a depression according to several economists. That may make profits elusive at best and provide losses at worst.
Economic data in the near future will be not just bad, but unrecognizable," Credit Suisse economists led by James Sweeney wrote last week. Anomalies will be ubiquitous and old statistical relationships within economic data or between market and macro data might not always hold… There is no blueprint for the current shock, and uncertainty about the extent of contagion and the economic consequences is overwhelming."
If you found this article to be of value, please scroll up and click the "Follow" button next to my name.
Note: members of my "Turnaround Stock Advisory" service receive my articles prior to publication, plus real-time updates.
---
---
Sandesh Ilhe
---
With an Engineers degree in Advanced Database Management and Information Security, Sandesh brings the deep understanding of the digital world to the table. His articles reflect the challenges and the complexities that come along with every disruption in the industry. He carries over six years of experience on working with websites and ensuring that the right article reaches the right reader.
More